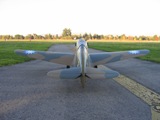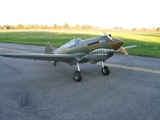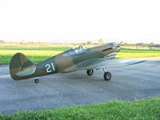 Fiberglass fuselage for Jerry Bates 1/5.5 Scale P40B/C. 82"span, 1.8-3.2, 18-24 lbs.
Epoxy Fiberglass Parts. Include recess panel lines and raised panel detailing.
Fuselage, bellypan and tail wheel cover is $375.
Canopy frame $25
Main gear covers $25
Cowling $40
Other accessories
Jerry Bates Plans with Manual $40
Flying aluminum scale spinner $65
Laser wood parts, formers, tail and wing (no stock wood) $80
Shipping in a very big box is typically $55-65
Delivery is within 1-3 weeks.
Retract options;
Sierra Precision Retracts- http://www.sierraprecision.com/products.html
Lenny Sarbin- http://www.rcsites.net/shindin

Other References;
Jerry Bates Plans - http://www.scaleaero.com/jerrybates.htm
Cockpit and other detail items for this aircrafy - http://www.rcfinaltouch.com
Informative building threads can be found at - http://www.rcscalebuilder.com

Laser cut parts to be used for the glass fuselage. These include all parts needed to be cut, except for balsa sheeting, and stock lumber. Does not include wood for firewall as different engines can be used for this aircraft.